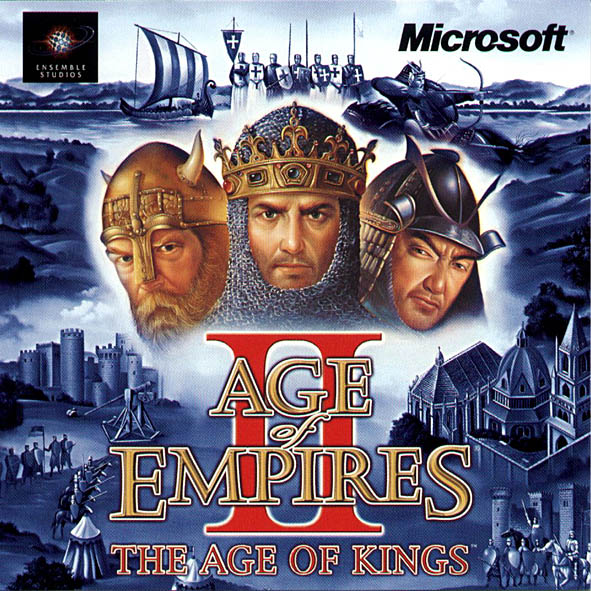 Requerimientos del Sistema


Microsoft® Windows® 95/98/Me/XP/NT 4.0 con Service Pack 5

Un PC con un procesador equivalente a 166 MHz o superior

32 MB de memoria RAM de sistema

200 MB de espacio disponible en el disco duro, 100 MB de espacio disponible en el disco duro para archivos intercambiables

Un lector de CD-ROM de velocidad 4x o superior

Super VGA con 2 MB de memoria de video





Age of Empires II: The Age of Kings (usualmente abreviado AOE2 o AOK) es un videojuego de estrategia en tiempo real desarrollado por Ensemble Studios y distribuido por Microsoft Games para los sistemas operativos Windows y Mac OS. Fue lanzado a mediados de 1999 y es el segundo título que compone la serie Age of Empires.

La historia del juego está basada en la Edad Media, tras la caída del Imperio Romano. El jugador dispone de 13 civilizaciones que existieron en aquel período histórico, y debe encaminarlas para formar un vasto imperio y conquistar otros pueblos. El juego ofrece la posibilidad de jugar contra el ordenador o contra otras personas en línea, con un máximo de 8 jugadores por partida.






Trucos

IR WINNER:
Obtener la victoria.



MARCO:
Mapa al completo.

Destruyes a todos los enemigos.

POLO:
Quitar las sombras.

LUMBERJACK:
+1.000de madera.


ROBIN HOOD:


AEGIS:
Construir más rápido


NATURAL WONDERS:

RESING:
Pierdes.

WIMPYWIMPYWIMPY:
Te destruyes a ti mismo.

TORPEDO#:
Mata al oponente (#)

FURIOUS THE MONKEY BOY:
Crea en los centros urbanos un momo asesino con un ataque descomunal.